Typeform is one of the best online form builders in 2022. It has a very intuitive UI and really, it is one of the best things that happened to the web. Like any other app, Typeform has some drawbacks like:
1- The price is so expensive.
2- It has a very limited number of blocks
3- There is no extensibility for the developers to build their own custom blocks.
4- Doesn't have many features for integration with WordPress like restricting the form to the logged in users, creating posts or registering users from the form.
5- The charts and analytics for the results are very basic.
6- You have to pay to get your forms working. If, at any time, you decide to stop paying, your forms won't be working any more.
7- The payment module is working with Stripe only.
8- The free version restricts you by the number of responses.
One of the top competitors to Typeform is Quill Forms. It is actually built for WordPress as a free Typeform alternative and has more advanced features than Typeform. The price for the pro version is much cheaper than Typeform and has more flexibility. If you decide to stop your subscription at Quill Forms, your forms will be still working without any issue.
You can see the comparison between Quill Forms and Typeform: https://quillforms.com/typeform-alternative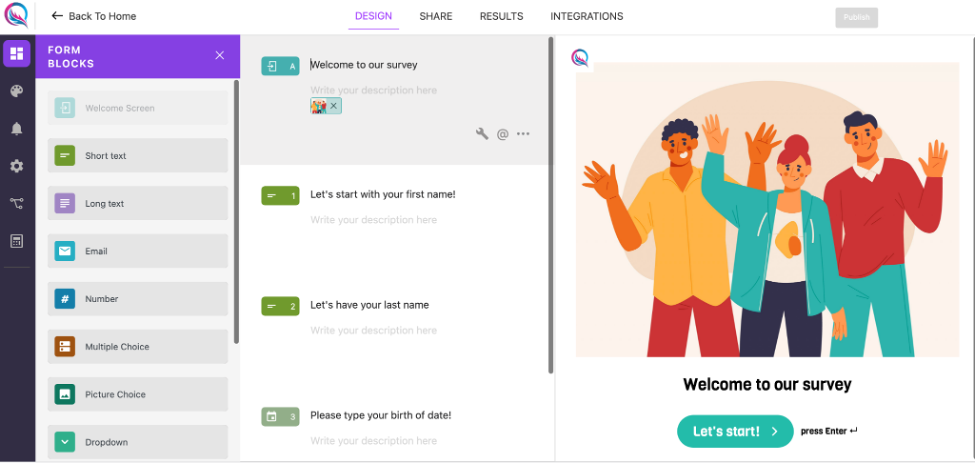 It has a very versatile form builder and it is a really feature rich plugin.
Quill Forms free version on WordPress repo doesn't restrict you by the number of responses. You can have unlimited responses with the free version and set up email notifications to get your results.
With the free version, you can change colors, fonts and backgrounds easily without any code experience.
Quill Forms is very developer friendly and as a developer, you can build your own custom block with Quill Forms easily. It just needs some React JS experience.
Moreover, you can restrict your form to logged in users or for specific user roles easily with Quill Forms.
The payment module is another powerful feature in Quill Forms. Unlike Typeform, it can support any payment gateway, not just Stripe.
Conclusion
There are a lot of Typeform competitors and many of them are built for WordPress. You can read Quill Forms post about best WordPress poll plugins that might look like Typeform:
We just picked Quill Forms since it looks exactly like Typeform and we believe that this plugin would have much potential.