Attending an interview is a stressful experience. You want to make the best first impression possible in order to try to secure the job. The interview is a chance to explain your skills and experience and find out more about the job advertised to see if you are a good fit. But it's all too easy to make mistakes in an interview, particularly if you are nervous. Here we cover the most common mistakes so that you can avoid them.
Why do you need to know the most common mistakes?
By learning interview etiquette you can make the best first impression possible. Knowing what you shouldn't do will help you to understand how you should behave. This will help employers to see you as a qualified and confident candidate.
Most common interview mistakes
1. Arriving too early or late
It's important to be punctual to give a good first impression. Make sure you arrive 10-15 mins before the start of the interview. This will give the interviewer time to finish off whatever they are doing. Being late will give a very bad first impression, you want to show that you value their time.
2. Wrong attire
It is important that you look smart and presentable for an interview. You want to look like you've made an effort and give a good first impression. Always wear formal business attire, even if the company employees dress more casually. Ensure your clothes are clean and ironed, and your shoes polished. Avoid bright colours, stick to neutral coloured suits and ties.
3. Using your mobile phone
Ensure that your phone is switched off or on silent mode. Being interrupted during the interview by calls or texts will look unprofessional. Use the time when you are waiting for the interviewer to look through your CV rather than having the first impression of you on your phone.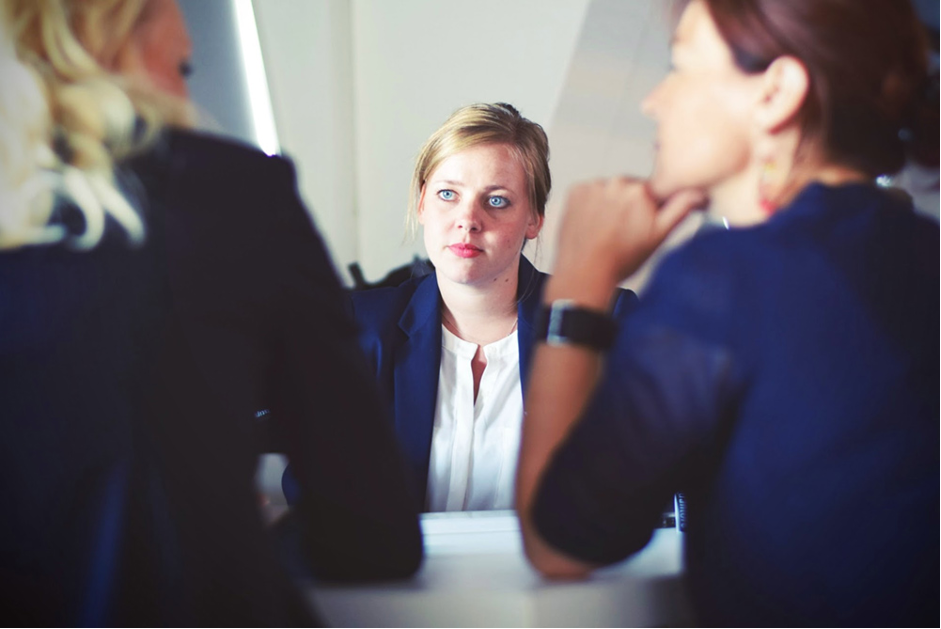 4. Not doing your research
It's important to find out as much as you can about the company and role you are interviewing for. Make sure you read the job description thoroughly and are able to demonstrate where your skills match their requirements. Research the company on the internet, make sure you know exactly what they do and who the main staff are. Read through case studies so that you can talk about their main clients.
5. Being unfocused
Ensure you get enough sleep and have something to eat before the interview. You need to be able to stay focused on the questions and to be able to think clearly about the answers. Not listening or getting distracted will not create a good impression. Use active listening skills and make sure you are positive and enthusiastic about the role.
6. Not knowing CV
Make sure you know your CV well and are prepared to answer questions about its contents. Being unsure of what is in there will give a terrible impression. You should remember all the dates and facts on it. Have a copy of it with you to refer to in a smart folder.
7. Not being prepared
Before the interview practice answering common interview questions with a friend or relative. Be prepared to answer questions about your strengths and weaknesses, challenging situations you have faced, problems you have solved and conflict that you have encountered. Having answers prepared to common interview questions will stop you becoming flustered when asked.
8. Focusing on yourself
Rather than just talking about yourself, focus on how you could fit into and benefit the company. This will show employers that you are able to join the company mission. Outline what you have brought to previous roles and what you believe you can bring to this role.
9. Not asking questions
It is important to appear interested in the role and the company, and in order to find out more you need to ask questions. You are likely to be asked at the end if you have any further questions so make sure you have something prepared to ask about the company or role. These shouldn't have been already covered in the interview. Some examples of questions to ask are:
What is the culture like?
Can you give me more information about the team?
What are the company goals?
Who would I be reporting to?
What is the management style?
10. Bad body language
When you meet your interviewer make sure you stand up straight, look them in the eye, approach with confidence and shake their hand if offered. If you are nervous try not to let your body language reflect this. Once in the interview sit up straight, make eye contact, smile and nod frequently to show you are listening. Try not to fidget, sit still, and keep your posture open, don't fold your arms.
11. Not following up
After the interview you should email your interviewer to thank them for their time. Include information about the role that excites you, and reiterate details from the interview to prove that you were paying attention.
How to do well in an interview
Dress appropriately
Listen
Watch your body language
Don't be too arrogant/self-centred
Take an interest in the job and company
Don't talk too much
Be prepared
Make sure you answer the questions
A good interviewer should be able to overlook any nervousness and see through it to assess your talents. MD of exhibition stand contractor Quadrant2Design, Alan Jenkins said 'We always make a point of trying to put candidates at ease, if they are a bag of nerves you won't get the best from them. You want a can-do attitude and team-player. They need to be able to demonstrate that their skills and experience matches the job requirements'.
Conclusion
It's easy to make mistakes in an interview if you let your concentration slip at all. Follow these tips and try practicing on a relative or friend so that you are prepared. It's vital to make a good first impression if you are to stand a chance of getting the job.